Since the month is almost gone, I guess I should finally get around to blogging about what went down! August was a lot of fun. Hot. Humid. But busy and fun.
David's last day at Cintas was August 3rd. As soon as he got home and packed and loaded, he headed north to scout out some deer. Pretty sure that man was gone almost every weekend this summer. I've felt like a widow on Sundays. Anyway, after church on Sunday, the 5th, I picked up Quinton and we headed to Panaca so that I could meet up with David and Q could hang out in p-town.
Monday morning David and I hopped in with Talen and Tonya and drove to Reno! They have been in Reno the last 3 years and Talen just got a job in Caliente so they moved back home to Panaca (David is super jealous). So I thought we were driving up separately to help them move the rest of their stuff from Reno, but all of that was already done. Instead we got a free ride to Reno, a day at Lake Tahoe, a visit to UNR, and lots of time together!
I was so shocked at how beautiful the lake is! So clear!!!! If we moved to Reno we would be spending a lot of time here.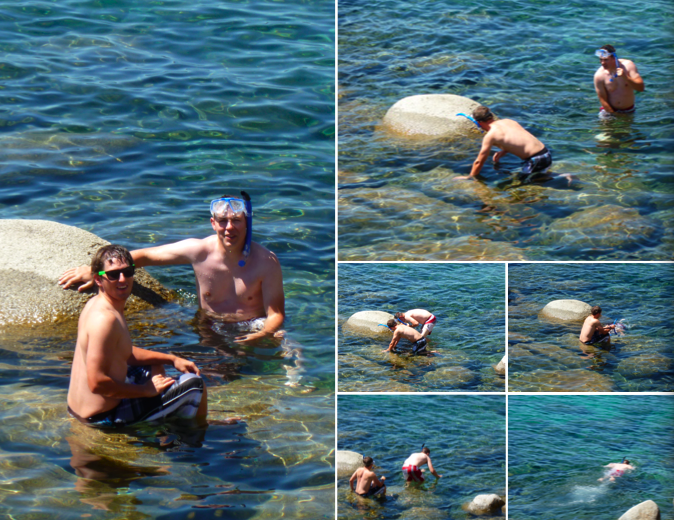 While exploring with their snorkels, David found some sunglasses. I had left all of mine in my car in Panaca. So he was so happy to dive down and retrieve them for me. yay!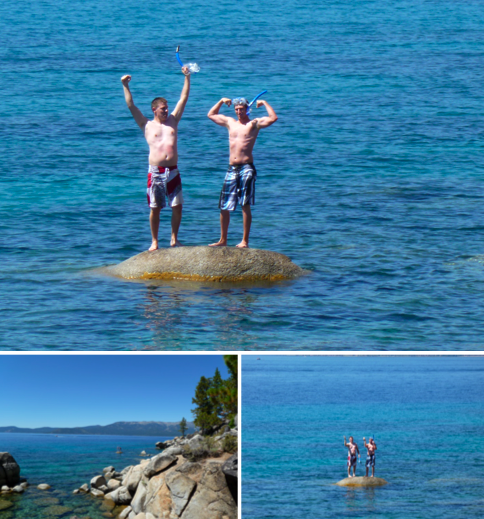 They were so proud of themselves for being able to swim out to that rock and then climb onto it. So proud that once they were standing, they gave us their best princess waves. Elbow, elbow, wrist, wrist... It was pretty comical to watch from a distance.
My new sunnies and the construction cone that was in the middle of road....
The next day we were dropped off at UNR while the T's went to their OB checkup (Tonya is pregnant!). UNR has a good wildlife biology program, so we wanted to check out campus and talk to an advisor etc.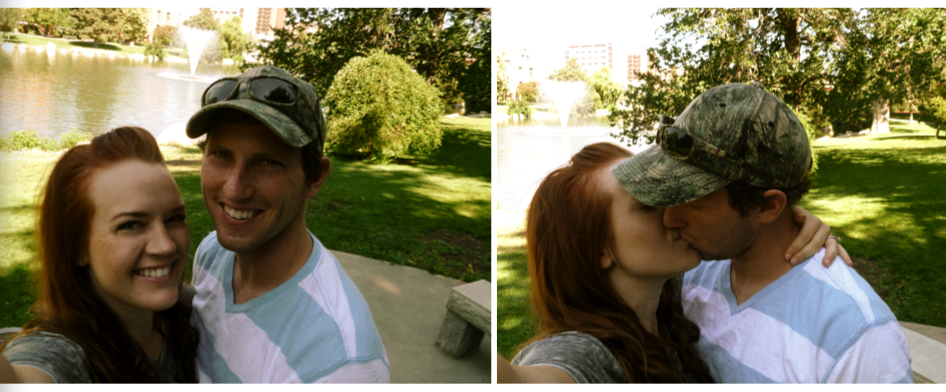 By Wednesday afternoon we were back on the (long and winding) road to Panaca. On Thursday David and I headed east to the Cedar Mountains for my family's reunion. We fished, hung out, went on a few 4-wheeler rides, talked, and ate. A perfect combo for a reunion.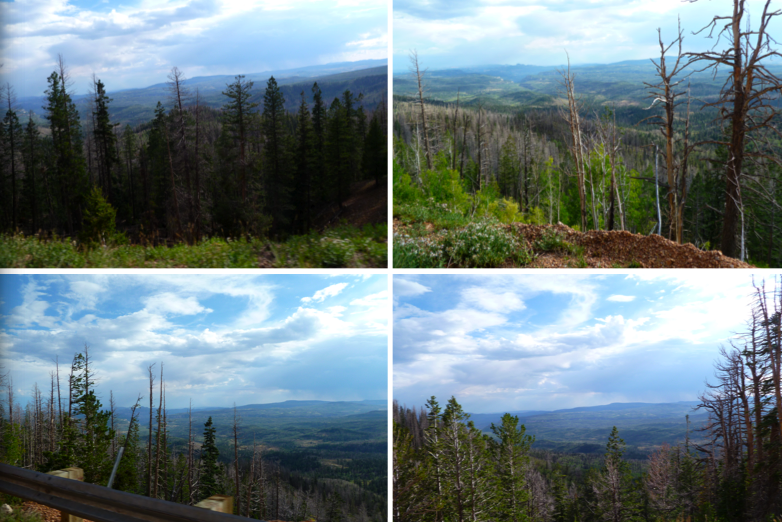 Roslyn was my buddy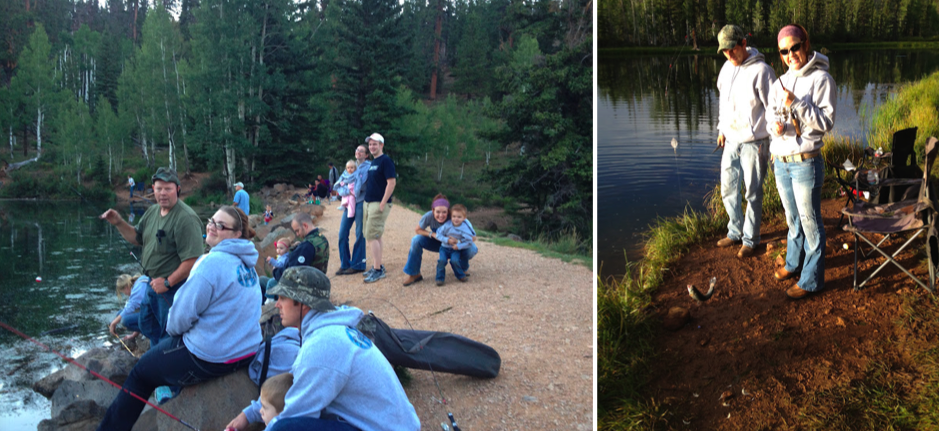 Our friends, the Adams family, stopped by for dinner one night and brought some horny toads they caught around their cabin. Jade was fascinated...Lydia was....not.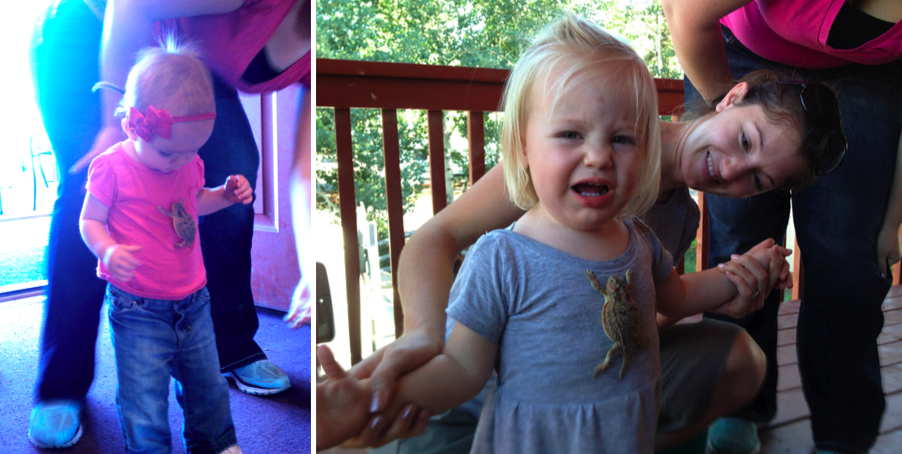 David seemed to always have one of the cute girls attached to him.
And voila! My road-trip crafting was a success!
Can you tell these girls are related or what?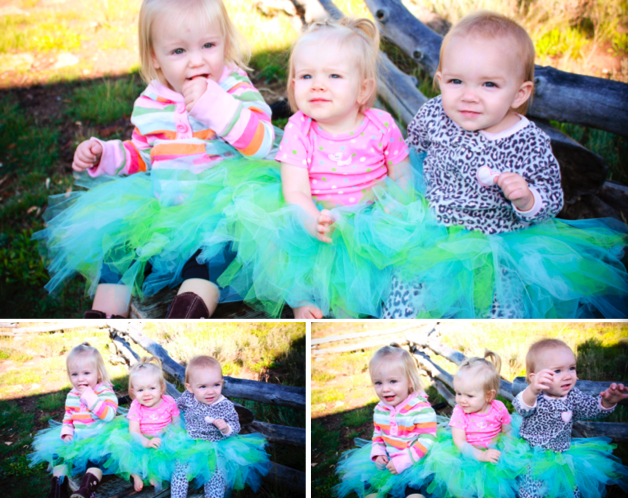 Saturday we returned to Panaca where David immediately went into hunting mode. I hung out at the house and worked on some online training to become a substitute teacher, and just lounged with Ch and P. It was lovely! Sadly, I had to leave Thursday to turn in my teaching packet, and because Friday-Saturday our Young Women had a Book of Mormon sleepover. I know some of the girls can't say this, but I loved it! We started reading at 10:30a.m. on Friday and on through Saturday night around 10. We had snack breaks, activities, guest readers and games to break it up. Also, our meals were brought in by ward members so we didn't have to stop to prepare, eat, and clean up. While we ate we had the Book of Mormon on CD playing.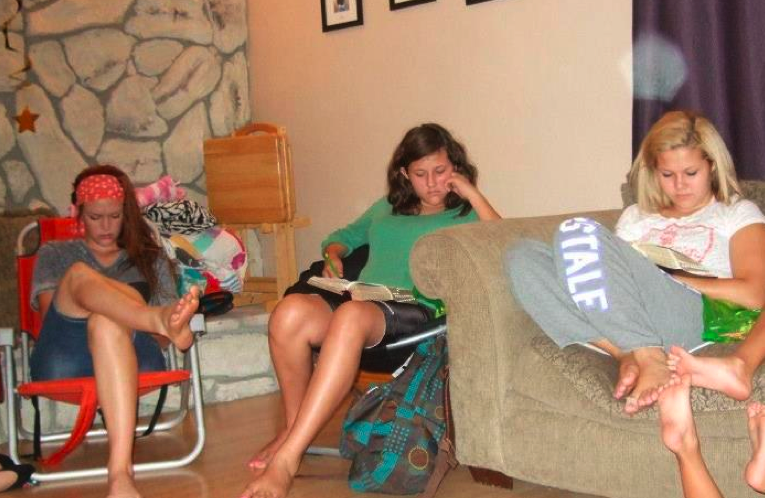 I was given the role of "pronunciation master". To avoid having 15+ people help/correct someone that struggled with a word or name, I was the one with the power to chime in when necessary. I tell you what, it was kind of exhausting. I felt like I read the BoM twice in those two days. I was always scanning ahead for obscure names to double-check with the pronunciation guide before the reader came to a word, and then doubling back to where the reader was, and scanning ahead and coming back, and...yah. Super fun! It was scary having to know how to say all the words and names that you think you've said correctly your whole life, but then be constantly second-guessing myself with all the pressure! That pronunciation guide and I are real close friends now.

Our celebratory cake! Yes, we ate the Bom! Yum!
I have never read the Book of Mormon cover to cover in so short a time frame before. Throughout the two days while reading, the spirit was testifying to me so strongly of the truthfulness and goodness found in its pages. And that Captain Moroni and Teancum are the bomb.com! On my list of favorites they are definitely up there in the most favorites.
After all that excitement, I patiently waited and waited for David to get his dang deer and come home!
Just look at these two bush-men! I'm glad they got to spend so much time together.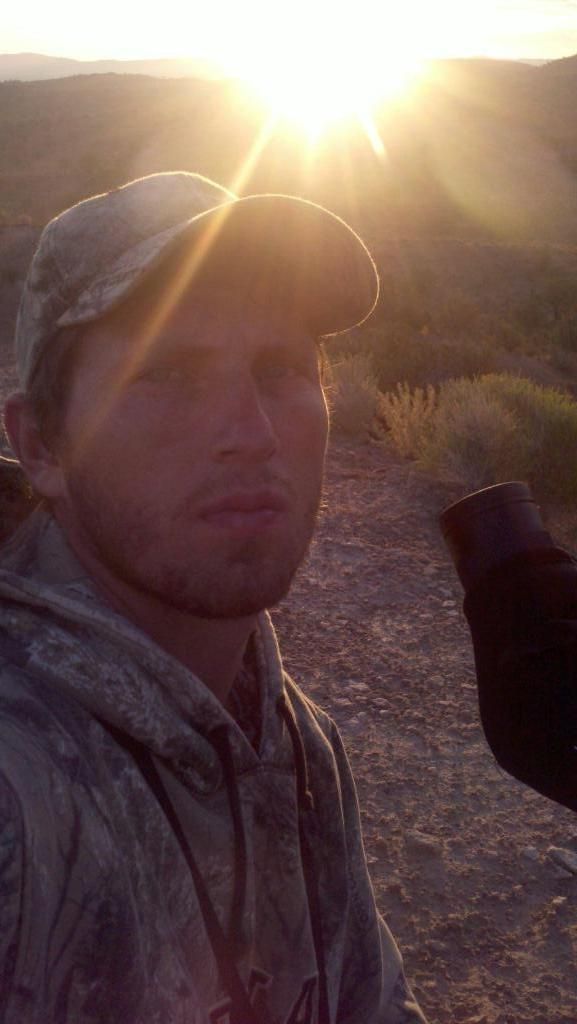 He let an arrow fly Friday morning and came home to me on Friday night! Although I wished I could have just gone to Panaca for the weekend to escape this blasted heat and lingering humidity. ahh! I'm so tired of it!
His first filled archery tag!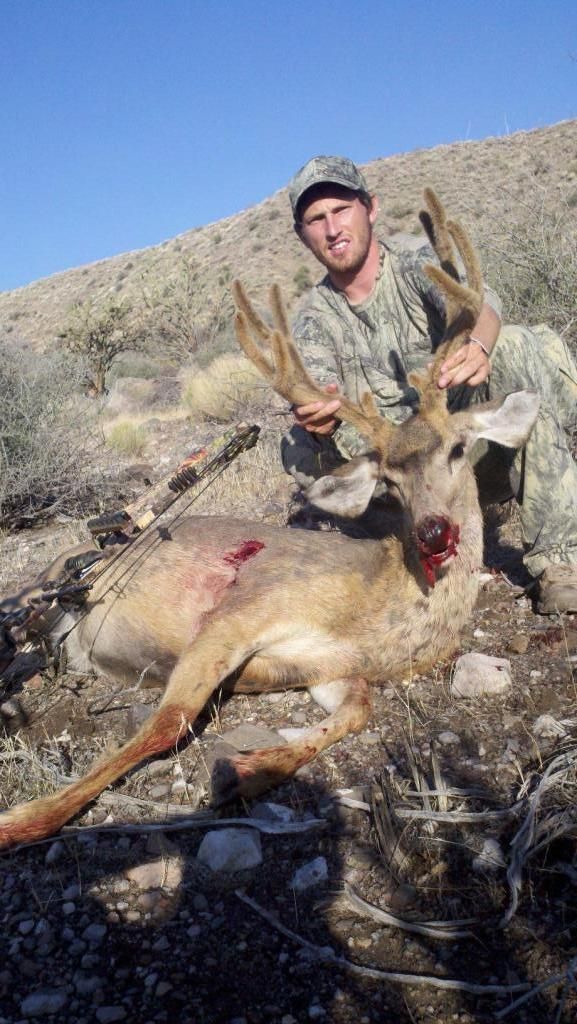 Saturday morning there was a tri-ward 5k for the Young Women. It was organized by Aunt Mer, who is the YW pres in Heritage Ward. The girls in our ward trained for it all summer but a few weeks before the race, our ward kind of pulled out I guess for a few different reasons. So here are the only people representing River Mountain ward! Myself, Mary, and Maddie! Way to go girls!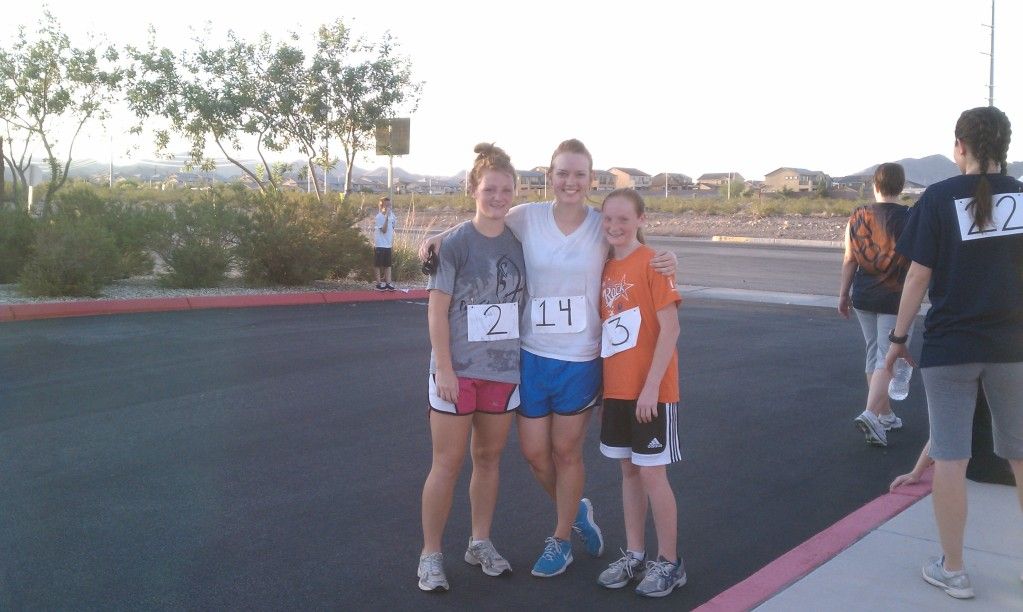 Saturday we went on a little date. The Lorax was playing outside at The District. I've been waiting to see this movie for the longest time. Loved it!
Monday was the first day of school! David is enrolled as a full-time student for the first time in his college career!! And now, I guess, is a good time for a life-update: This is copy and pasted from an email I sent to my (30) piano students!
I'm sure a few of you heard last spring that David and I were going to move to Reno or Alaska or Timbuktu or Italy (I wish). We were looking at several job and schooling opportunities there (Alaska and/or Reno) and things got pretty close to being official. But they never did materialize, which is why I never sent my condolences that you needed to find another piano teacher. Note that I would have given you plenty of time to grieve and that I would have also given you a list of other teachers you could contact. Bringing things back to the present...I am not in school this semester/possibly school year. Woohoo! But I did obtain a substitute teaching license, so that's how I will be spending most of my hours before piano lessons start in the afternoon. This is why I had to bump back lesson times to start at 3:00 instead of 2:30- sorry to those that loved the extra early time slot. Why am I taking a break from school and working 10(ish) hour days? Well, that sweet hubby of mine finally decided he wanted to really have a go with the whole school thing. Until now, he's worked full-time while attending school part-time. In August he quit his job and enrolled for 16 credits. Which meant that I needed to find some full-time work to pay for life (or textbooks, ugh!). The plan is for him to finish his Associates degree down here and then transfer to a university that offers the major he is interested in (Wildlife Biology), and because after going to college full-time for four years straight and I still don't know what I want to major in, I'll just continue school at wherever he/we decide to go. Right now we are looking at Reno (UNR), Idaho (BYU-I) and Provo (BYU). We have to stay in state or go to BYU to avoid the whole student loans thing. When might this huge move take place? Well, if all goes well, David should finish his Associate degree in May (2013). And depending on what school we decide to go to and which semester we can start, we will be leaving good ol' Henderson come June or August (2013). I'm hoping for June because I would really love to avoid another scorching hot (and strangely humid this year?) summer. So there you have it- the rumors (a year later...) are true! I will be moving sometime after the end of this school year. ;( I am so so excited for this change so that my little family can continue to set a good foundation for the rest of our life, but it makes me so sad to have to say goodbye to all of you. Which is why I'm breaking this news to all of you right now- so I have plenty of time to cope with my loss. I truly enjoy teaching your children and I don't want to leave them......
...and then it goes on with more piano stuff.
But there you have it! The current life status of Team D&G.
And lucky us! David JUST won something from the radio- a two night stay at a resort in Mesquite with a $70 credit to the spa. So it looks like we'll be peacing out of Vegas for the long weekend. Fist pump!!!